MichaelSkaug
>
Projects
Distance to Nearest Climbing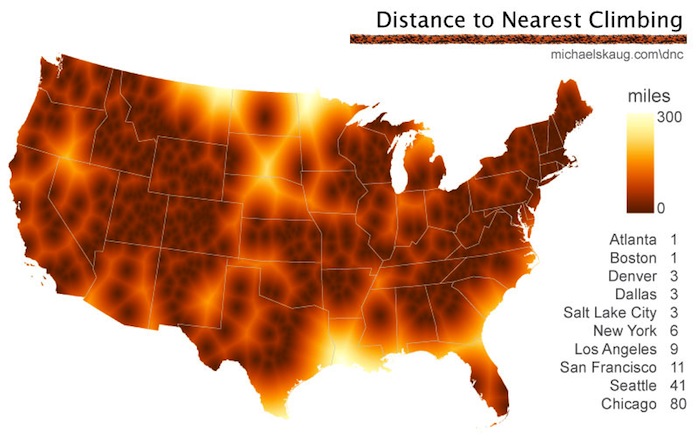 Inspired by the "distance to nearest road" project of the USGS, I wanted a map that would show the distance to nearest climbing in the conterminus US. First I needed the geographic coordinates of all climbing locations in the US. For this, I went to mountainproject.com which maintains a relatively complete list of climbing locations, from world class (Yosemite) to the barely known (I-70 East Bound Rest Area, Kansas?). After harvesting the geographic coordinates for each area and learning how to handle geographic data in python (Basemap), I came up with verion 1, shown above.
What can we learn from a map of the distance to nearest climbing?
You're never very far from climbing in the US, but if you are a climber, you might want to avoid Louisiana.
Theres's climbing in Florida!
There are weaknesses in any type of data analysis. Here it's that all climbing areas are considered equal, so that being one mile from a mecca like Yosemite is the same as being a mile from a graffitied lump of rock under a highway. A better map would show a metric that includes both proximity and quantity/quality of climbing, but that will have to wait until version 2 (which is now here).